Recycled Waterhog Dog Mat, Placemat
Images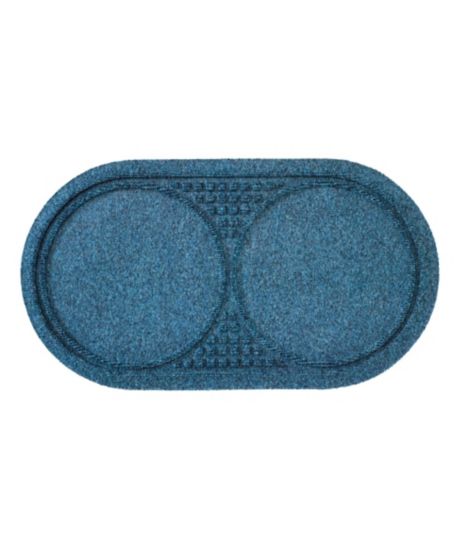 Product Details
Keep your pet's feeding area – and your floor – clean with our ultradurable, American-made Waterhog dog placemat, ruggedly constructed from recycled plastic materials.
Specs
Small

Dimensions: 10½" x 19".
Capacity: Holds two 7" diam. bowls, not included.

Large

Dimensions: 13.5" x 24.5".
Capacity: Holds two 10" diam. bowls, not included.
Why We Love It
American made. Indoor/outdoor. Ultratough. Recycled. Easy to clean. Our Recycled Waterhog mats defy dirt – as well as comparison.
Construction
24 oz. polyester fabric made from 94% recycled materials.
Thickness/door clearance: ¼".
Rubber backing.
Additional Features
Perfectly sized to be used as pet placemat or door mat.
Features thick and thin fibers for scraping dirt and absorbing water.
Dries quickly and resists mildew, shredding and fading.
Naturally stain resistant and easy to clean.
Holds up to 1½ gallons of water per square yard.
Use indoors and out.
Recycled Waterhog Dog Mat, Placemat
is rated out of
5
by
117
.
Rated

5

out of

5
by
SMBinMichigan
from
Love It!
This is terrific. I hate to say it but my dog (an 85 lb. 12 1/2 year old black lab mix) is a total slob. He slops food and water all over the place and has destroyed many carpet remnants that I have used under his bowls in the past. This mat is absolutely wonderful and looks terrific. It keeps the mess contained, the bowls fit perfectly within the allotted spaces, and the color works well with my décor. (I got the gray color but most of the stuff I have is blue, but it really works well.) I haven't tried to wash it yet since I have only had it for a couple weeks but I'm positive that it will wash well. I couldn't recommend it more highly!
Date published: 2017-04-05
Rated

4

out of

5
by
MSchultz
from
Simple & Space Efficient Design
We ordered the gray color in large size (for two 10 inch diameter bowls) and have been using it for about 3 days for our Bernese Mountain Dog puppy. We live in a large apartment, but still an apartment so we wanted something that would save space. This fits the bill perfectly for that and is attractive with a simple minimalistic design. The placement does a decent job of keeping the bowls in place. However, I do wish that the crevices were just a tad bit taller so that the bowls could really be more secure. But so far we really like this placemat and it is doing its job well. We plan on keeping this for a long time.
Date published: 2016-10-19
Rated

5

out of

5
by
JRemm
from
Love this!
Love this mat for my dog's food and water bowls! I had just recently purchased two of the Waterhog "Everyspace" mats, with the same pattern of small squares as this mat, and in the same Camel color, for my kitchen. I had bought a large rectangular mat for inside the sliding doors from my deck, and a smaller one for inside the door from my garage. The dog's bowls are also in the kitchen, so this pet mat seemed like a logical addition, as it matches so well with the other two. I'm very pleased with these purchases,and the high quality of the Waterhog mats. They do help to contain water and dirt, are easy to clean, and they look great!
Date published: 2017-03-31
Rated

5

out of

5
by
loghomelady
from
Wears Like Iron
After 13 years of heavy use, my dog's Large Waterhog Dog Mat is still in perfect ironclad condition, but years of use have faded the blue somewhat. It is kind of like having a perfectly good, dependable car but the paint is a little faded. Hard to justify a new car, or Dog Mat when they are still serviceable. One review in November 2019 has me wondering if a new mat would be of the same indestructible quality as my older one. My dog also dribbles huge amounts of water as she trots away after drinking. I solved part of the problem when replacing another Waterhog door mat, by putting the older, larger one under the dog mat. That catches a lot of the dribble, but not all. That's Life with a Dog.
Date published: 2020-07-20
Rated

5

out of

5
by
Anonymous
from
Water hog for the dog
This is perfect and exactly what I was looking for to put under the dogs bowls so the hard wood floors weren't always soaked. If anyone has ever owned a lab you know they love water and I think from the looks of the surrounding floor you would think my dogs swim in their bowl not drink. These mats really do soak up all the water and leave the floors day. I bought these for multiple family members with dogs and they claim the same. My sisters dog food bowl was over the carpet and over time she realized the carpet was getting moldy from the water left sitting. The mat completely eliminated that issue. They are easy to clean and show very little dirt of hair. Perfect!
Date published: 2017-01-05
Rated

5

out of

5
by
ImissBoston
from
Perfect utility
This mat arrived & is what I had been hoping to find. The brown color blends into my hardwood floors, soaks up water from my sloppy Frenchies & catches their crumbs. I have two ceramic water bowls (7" diam) that fit just fine. I have other water hog mats that work just as well. What I was not looking for was a kitschy, cute, doggie themed placemat that drew attention to itself. I've used silicon pet bowl mats & they become scratched easily & look dirty perpetually. This is practical, durable & discreet which appeals to my Yankee practicality.
Date published: 2017-02-08
Rated

5

out of

5
by
MsMogul
from
Functional mat under pet dishes
My cat is a messy eater! With this mat, the food and water dispenser stay put and do not slide as they did on the plastic mat from the pet store. There are no more crumbs or water or wet kitty footprints on the wood floor. The mat keeps crumbs from rolling off and absorbs splashed water. Yay! At the same time, I also purchased the 2'11" x 7' runner for in front of the dishwasher, sink and stove and I'm very pleased with the functionality. A few years ago, I purchased waterhog monogrammed mats for outside my front and patio doors, and like those very much.
Date published: 2017-12-20
Rated

3

out of

5
by
Frankthecat
from
Adequate but different than the past mats
It does the job it's cut out to do, but it is markedly different than the water hog pet mats of yesteryear. I'm using it and happy to use it, but I have two pet water hog mats from ages past and they are sturdier and of better quality. I would buy another if I needed it but I'm not drawn to do so because the current model is not as sturdy or as well-made.
Date published: 2019-11-28