L.L.Bean/Komperdell Rubber Walking Tips
Images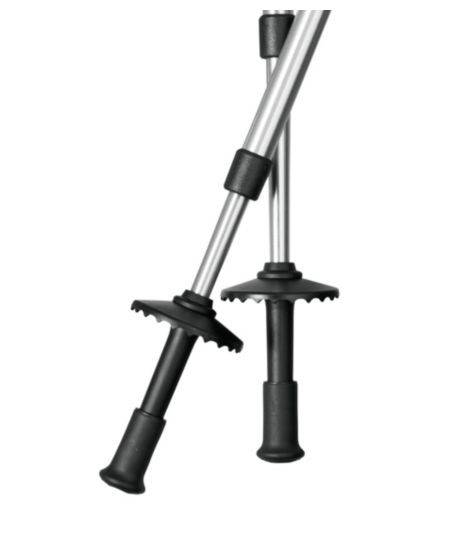 Product Details
For more urban trekking on asphalt or concrete, protect the carbide tips of your hiking pole with this hiking pole rubber tip and enjoy better traction on harder surfaces. Please note: Compatible with L.L.Bean and Komperdell hiking poles only.
Additional Features
Protects the carbide tips of your hiking poles when walking on asphalt or other hard surfaces.
Extends the life of your pole tips.
Easily put on and removed.
L.L.Bean/Komperdell Rubber Walking Tips
is rated out of
5
by
59
.
Rated

5

out of

5
by
BigMa
from
Perfect!
Unfortunately I have come to use my Komperdell Rambler as a cane because of health needs now and the graphite tip made it unstable when walking inside on slick floors such as wood, marble, etc. because it would slip. I should have known LL Bean would have a solution and sure enough when I looked online there were the tips. I removed the one that was on there and slipped on the new walking tip and voila!, it fit and works like a charm. I love that walking pole because it is so lightweight and adjusts to many heights and now I can use it as a cane too. It works much better fhan the heavy and cumbersome medical type canes. Yay!!!!
Date published: 2016-04-21
Rated

2

out of

5
by
Russell37421
from
Worked for awhile, but failed before worn out
Where I hike it is very rocky, and I don't want to prematurely wear out the carbide tips of my LLB/Komperdell Hikelite trekking poles. So I bought these. Easy install, stayed on well. Lasted for a few months, but well less than a year, before the carbide tip punched a hole through the rubber tip. This was due to the carbide tip wearing away the inside, not the wearing down of the rubber tip from the outside. There was plenty of rubber left on, but once the carbide punches through, they cease to provide the benefit I sought. Not worth it, cannot recommend unless only short-term use is sought.
Date published: 2016-10-21
Rated

1

out of

5
by
KarlsReview
from
Komperdell Rubber Walking Tip review
The Komperdell Rubber Walking Tips were ordered for an L.L.Bean Rambler Walking/Hiking stick that was purchased from L.L. Bean about a year and a half ago. The purchased rubber tips were the only tips available from LLB for "The Rambler" according to the person who took my order. The rubber tips are designed with a rib inside to snugly fit the cane's tip and to keep the carbide tip from punching through the rubber tip. The rubber tips ordered from LLB didn't keep the carbide tip from punching through and lasted with just three days of usage. I called LL Bean customer service for help and it was suggested that I call Komperdell directly; and I did. Komperdell sent me the correct tips which fit well.
Date published: 2016-06-10
Rated

5

out of

5
by
FinickyWife
from
perfect fit even with an added washer!
Many years ago, I purchased the LL Bean (Vario Hikelite) poles and was very happy with them. I fell recently and decided to use these poles to help me walk along a paved trail near our house. I needed tips for my poles. The inside of these LL Bean/Komperdell tips are tapered with a small lip. The small lip is used to keep the sharp carbide tips on the poles from hitting the bottom of the rubber tips. For extra protection however, I put a 5mm metal washer around the tip of the poles before inserting into the rubber tips. Even with the added washer, the tips fit snugly onto my poles! (The picture shows a shinny metal washer at the end of my well-used hiking pole!)
Date published: 2020-07-17
Rated

4

out of

5
by
Buffhunr
from
Good practice
These rubber walking tips are great for saving the metal tips on your walking sticks when you are on a hard surface, (asphalt, concrete, gravel). They fit nice and tight, almost to tight, the easiest way I found to put them on was heating them up with a hair dryer to make them pliable. I haven't had them long, actually only used them 4 times, and they have not slipped or even acted like they were going to fall off, they are a little more worn than I had hoped but replacing the rubber tips with be a lot less expensive than the poles.
Date published: 2016-07-20
Rated

3

out of

5
by
deluxestogie
from
Adequate, but don't fit Komperdell trekking cane
I bought these rubber tips to cover the carbide tip on a newly purchased Komperdell trekking cane (cork handle, telescoping pole) for indoor use. The rubber tips are too large. In order to use them, I covered the carbide tip with the protective, plastic shipping cap that came on the cane, then pressed the rubber tip over that. It works well that way, but still not what I had in mind. Under nearly constant indoor use, with occasional excursions to the mail box, the tip shows no wear after two weeks. My concern is that the plastic cap may not last, but seems okay so far.
Date published: 2015-12-09
Rated

5

out of

5
by
Dutch1
from
Help for the handicapped!
Always outdoors and active, suddenly being handicapped by walking/balance concerns, I've been using a cane or walker. The cane forced me to lean to one side incurring back pain and not walking long distances. Found myself going to "big box" stores where I could walk comfortably for long periods utilizing their carts. I then tried the walking poles, they are wonderful and have given me more freedom to walk distances and woodsy trails, keep me upright and comfortable. Also purchased tips so they could be used in my home.
Date published: 2014-07-02
Rated

3

out of

5
by
cDave3
from
Only option?
I have lost track of how many sets of these tips I have purchased since buying my trekking poles, but I would guess on the order of a half dozen. I have been very pleased with the trekking poles themselves, but some of these tips wear out reasonably quickly. I frequently walk on asphalt, which certainly contributes to the wear, but in my experience some of the tips wear out after a couple months use and others last quite a bit longer. I have to recommend these because, so far as I know, they are the only tips that will fit Bean trekking poles. If there was another option I would probably give it a try.
Date published: 2020-04-29