Images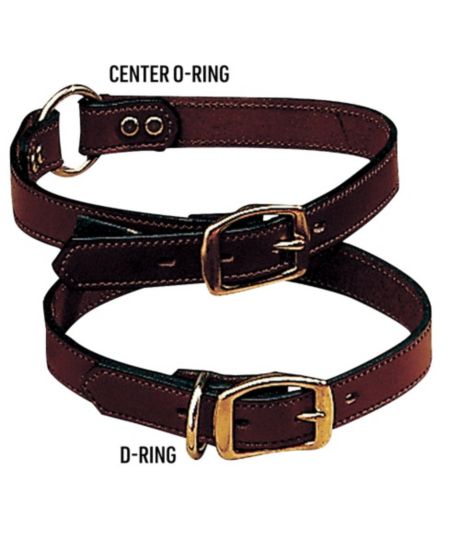 Product Details
Good looks are combined with the best quality available in this leather dog collar — carefully stitched and sealed against moisture.
Additional Features
Fit instructions: Measure your dog's neck with a flexible tape measure.
Four buckle holes allow for two inches of adjustment up or down.
Sizes listed are to the midpoint of the four buckle holes.
Order one size up if your dog's neck size is between sizes.
Leather Dog Collars
is rated out of
5
by
107
.
Rated

3

out of

5
by
NYgal
from
Not for my dog
Have no complaint about the collar - well- made, heavy leather which will probably soften over time. However though the 15" collar fits my 20 lb. terrier, the buckle is much too heavy & large for her. It would seem that the width and buckle size should be more comparable with the length of the collar, since the shorter collars would be for a smaller fog. Do, sorry but it will be going back. I wanted a leather collar with a buckle, have the monogrammed a Bean one but afraid that over time the plastic (?) snap buckle will get worn out. Wish Bean would offer a smaller leather one with brass buckle, I could put her name on it with a wood burning pen.
Date published: 2013-11-07
Rated

5

out of

5
by
charliesmom11
from
Best collar for the money!!
I originally bought this collar in June 2012. My chocolate lab was about 6 months old. It was stiff to begin with but quickly softened, it looks so great on her and was very durable! It always drys well and the color doesn't bleed. It doesn't hold smell so never stinks and doesn't need to be washed. I ordered one for my second dog and they're both still going strong. I bought three more for my parents dogs as Christmas presents. All have been engraved and look so sharp!! I'm ordering again now only because the information on the collar is no longer relevant (the collar outlasted the relationship! lol) Thanks LLBean for making an affordable durable attractive leather collar! 5+stars for sure!!
Date published: 2014-04-07
Rated

5

out of

5
by
TheRunningGolden
from
Best Leather Collar
I bought this collar for my Golden Retriever back in 2012 when he was only about 6 months old; I had bought it a little big to allow him to grow into it. Now fast forward to 2017 and he is still wearing the same collar!! The leather wears perfectly, it does not smell and it still looks so good I can't justify buying him a new one! Definitely recommend this collar for anyone looking for something for an active dog with high durability to withstand swimming, mud or anything else that could be potentially detrimental to the average collar.
Date published: 2017-11-09
Rated

2

out of

5
by
NYCLilly
from
D Ring leather dog collar - engraving is awful
I got this collar and had it engraved in the script. The entire engraving was horrible. The plate itself was placed crooked on the collar and the script font was so small and light that you can't see it. Even if you are looking at it up close it is so hard to determine what it says. The crazy thing is that the plate is big enough to handle a larger font, so it makes no sense why it would be so small. The collar itself is nice, a little stiff for what I was looking for. But good for the price point. I actually ended up getting the AKC leather collar for around $12 and was much happier with that.
Date published: 2011-12-21
Rated

5

out of

5
by
eltee
from
Handsome leather, beautiful collar
After measuring my dog's existing collar, I order the 17" to match. I read, but did not consider, that L.L. Bean measures this collar to the center of the 4 holes. As a result, the collar fit either too losely or too tightly. This was my mistake and was easily fixed by punching another hole. I suggest going a size smaller than needed, because the collar does not come with a keeper to hold the excess end of the collar (like your belt or watch band does). This was also easily fixed by attaching a small leather band, but I would have liked for the collar to have that feature. The brass tag is easy to read and is beginning to patina and looks great. Exactly what I wanted, exceptional L.L. Bean quality as always!
Date published: 2018-01-31
Rated

5

out of

5
by
pittyperson
from
strong and sturdy
I ordered this collar and it came with an oil stain on it and the buckle was broken. I called and the man I spoke to was very nice. He replaced it immediately and asked if I needed it overnighted because I wouldnt have a collar for my dog and he was actually worried. He said not to worry about the broken one. I love the collar and so does my dog. Its leather but its so soft he is so comfortable with it on. Its very good looking also. The customer service was excellent too. Thank you !
Date published: 2016-08-18
Rated

5

out of

5
by
Duffle
from
LOVE LOVE LOVE this Collar!
I've had this collar for almost a year now and I've been very pleased. My 2 year old lab is constantly swimming in the ocean or playing with other dogs whom find grabbing him by his collar to be fun and games. I do agree with other posts- the engraving is not as deep as I would like, nor is the font large. I have his name and 2 phone numbers engraved on it. HOWEVER, I would engrave it again. I've been called twice in the past year when my little man *escaped* in the neighborhood. I have only cleaned the collar one time with leather cleaner, but do take off dog and allow to air dry after swimming. Love the natural patina collar is now showing and receive many compliments on it.
Date published: 2012-10-17
Rated

2

out of

5
by
NJBrit
from
Be careful of the width
Nice quality, but nowhere is the width stated in the description (it is 1"). I have a Jack Russell and the width of the collar combined with the bulky brass hardware makes the collar just way too big.
Date published: 2015-08-10