Need Help Finding Your Size?
How to Measure: Women's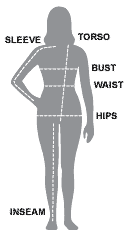 Chest/Bust
Measure around the chest at the fullest point of the bust.
Waist
Measure around your natural waistline.
Hips/Seat
Measure around fullest point of seat while standing.
Inseam
Measure similar pants that fit you well. Lay them flat, with the front and back creased smooth. Measure along the inseam from crotch to bottom of leg hem.
Sleeve Length
With arm relaxed at your side and slightly bent, measure from center back neck, over point of shoulder, down the outside of the arm to the wrist.
Torso (Swimsuits)
Start by the neck at the highest point of the shoulder, then measure down over the chest through the crotch and continue up the back to the starting point.